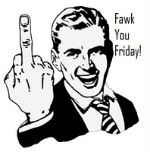 Fawk You Friday is hosted by
Boobies, Babies & a Blog
and
My Mad Mind
*Fawk you to weeds that grow so stinking much. I want to grow a freakin garden nit a pansy ass weed
*Fawk you to my kids who thinks she has to tell me every little detail of hat others are doing so they can get in trouble.
*Fawk yeah to the hubby who gets to go away for the weekend and spend time with his family. Miss him like crazy but glad he is able to get away
*Fawk you to the fucking public pool that only stays open for a couple of hours. I don't fucking pay all that money to just get in and then get out. We want to fucking enjoy ourselves
And just for fun
*Fawk you to life. Would love to be a billionaire and travel the world. I love having a steady stable life but I also love change.